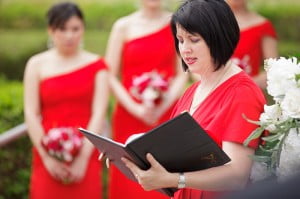 Good marriage celebrants will work with you to create a ceremony that will touch your heart and will be a beautiful experience that will be remembered by all. That's the celebrant's goal as well as yours!
Together, we can create a unique ceremony that will reflect your personal values and beliefs, your love and commitment to each other. It will be a ceremony of the utmost significance that will remain in your heart from that day forward.
As a celebrant who strives to provide a wonderful wedding ceremony, I will ask you questions in order to get to know you and your hopes and dreams. The initial consultation is free.
Modern, Traditional Or Your Own Vows
Your wedding vows are at the heart of the ceremony. This is your opportunity to express the feelings and the commitment that you have for one another, to pledge your love and devotion to each other. Your vows are an expression of your desire to share your lives together. You may choose from a selection of modern or traditional vows, or I can help you with ideas to write your own vows.You can include special readings in your ceremony. Special readings may be read by yourselves or by a member of the family, friends or myself. If you wish, you may choose selected readings from my portfolio.
Venues For Your Wedding
For your wedding ceremony, you may choose any location you desire:
Home
Garden
Beach
Riverside
Special place where you and your partner met.
Enquire about a date
Planning ahead is the key to a successful wedding. It only takes a minute to contact me now to check availability for your special day, then we can have a no obligation chat about your needs and options for your ceremony. Enquire Now.
Talk to Renee about your special day…